Bence Tamas is a national level rower and is also one of the very first Humon users. He has been training with the Hex for almost 2 years and has competed in many international competitions since then. We spoke with Bence about his exciting career and how he's been using Humon out on the water.
Who is Bence Tamas?
Bence Tamas is a rower and has been a member of Hungary's national team for the past 8 years. He regularly competes in the biggest international events such as the world rowing championships.
What are your greatest achievements?
"This is a tough question because I've competed in so many events. My best place at the world championships was 5th in the lightweight men's four back in 2017 (Sarasota, FL). That being said, I think my proudest moment was winning a bronze medal in the men's lightweight singles at the 2015 Summer Universiade (South Korea). The event is held every two years and is like the Olympics for universities."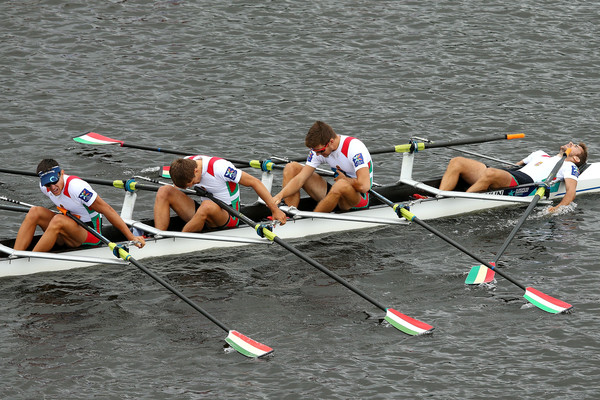 Can you give an example of your weekly training routine?
"I typically train 6 days a week, twice a day. Besides rowing, I also do a lot of weight training, and a little bit of running, cycling, and cross-training. Most of the training is on the water, except during the winter because the temperature gets very low. Most of the time I do steady state training with harder interval sessions about 3-4x per week. The other way I mainly use Humon is for harder interval sessions to prescribe my rest periods."
How have you incorporated Humon?
"I first started using Humon almost 2 years ago when you first launched. Humon was extremely useful to help me optimize my warm-up protocol. Early on I did a lot of experimentation to maximize my muscle oxygen levels before training. I always wait until my muscle oxygen is at baseline before starting my next bout."
Do you use other technology or lab tests to assess training?
"Our team does use heart rate monitors for some training and also stroke monitors to decide our stroke rate for a race. We use to do lactate testing but have not done this in over a year because the Humon device is much easier to use and provides the same or better insights."
Finally, what are your current goals as an athlete?
"My current goal is to win a medal within the next 3 years at the rowing world championships. I will not be going to any international regattas for the rest of this year because of some setbacks in my preparation. I did not perform well during the Hungarian national trials or at the first world cup back in the spring. I want to identify my mistakes from this year to get ready for next season."
Make sure to check out @behumon on Instagram, Twitter, and Facebook for more tips on how to warm-up, train, and recover effectively.
Sign up for updates about our products, news, and special offers.