Back to posts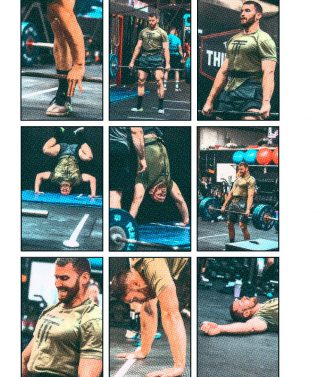 17 May / Training
A Holistic Training Approach with Kyle Ruth from the Training Think Tank
The Training Think Tank is a network of coaches who provide highly personalized training programs, assessments, and nutritional advice to achieve and exceed training targets. They work with athletes across a variety of sports including Olympic swimming and triathlon, however their specialty is within the sport of CrossFit. They are well known within the community and train some of the best in the sport like Travis Mayer and Noah Ohlsen.
Humon recently sat down with one of their individual coaches Kyle Ruth, who recently started incorporating muscle oxygen (SmO2) into his training arsenal. Kyle has been passionate about sports and science for most of his life, competing as a collegiate swimmer and sprinter at the national level. He also went on to complete his Masters in exercise physiology at Indiana University. Kyle also competed in the CrossFit regionals 4 times and now primarily trains high level CrossFit athletes.
What is your approach to training at the Training Think Tank?
"Our approach is very holistic, not just encompassing what you do on the training floor, but also how you think, and how you interact with the world. This includes everything from eating, thinking, and how you recover in between sessions to improve performance. We are also very athlete centric– the athlete and individual drive the training process rather than bending the athlete to the program."
Do you incorporate technology into your training?
"We were one of the first organizations to look at physiological monitoring in the sport of CrossFit. We always push our athletes to become world class without the use of technology, however in this day and age, to bridge the gap between great and podium level you need to be much more specific."
Why did you become interested in Humon?
"I became interested in SmO2 monitoring about 6 months ago because we found that training with heart rate zones failed during high intensity training such as weight lifting. We looked into lactate testing, but found it was too invasive and clunky to be practical."
How have you been using the Humon Hex over the past 6 months?
"I've been using muscle oxygen to help regulate training designs. Teaching someone how to pace a workout, and utilize the physiology they have."
Here are the 4 ways Kyle is currently using the Humon Hex during training.
Physiological Assessments
"Identifying limiters of performance for example if the athlete is limited cardiovascularly or from the ability to use oxygen within the muscles."
Optimizing barbell cycling work
"During barbell cycling work, for example, 3 power cleans, 3 hang power cleans, and 3 front squats. Every 90 seconds he athlete would perform one set of that, the rest intervals were arbitrary. Now we can use the Humon device and be much more personalized with their rest periods by watching the athlete recover back to their baseline before performing their next set."
Pacing within mixed level workouts
"We've started building a muscle oxygen data base for different types of workouts and athletes. We are now starting to see how someone's SmO2 graph should look over the course of a 10 minute workout based on their own physiology. This is important because every athlete's physiology is different. You can have two athletes with similar competition scores with completely different muscle oxygen data. We can use this to personalize their approach to training and competing."
Development of endurance
"Making sure athletes are staying within their limits during longer workouts and not pushing too hard, too early is always a challenge in the sport of CrossFit." Humon helps us monitor and optimize endurance and threshold training"
You can find the Training Think Tank on Instagram @trainingthinktank and also make sure to check out @behumon on Instagram, Twitter, and Facebook.
Sign up for updates about our products, news, and special offers.